Local, Professional, Affordable
The #1 Carpet Cleaning in Ayrshire
Looking for Carpet Cleaning in Ayrshire?  Call us today.
Is it worth getting carpets professionally cleaned?
Whether you have children, pets, or just a lot of traffic through your home, Carpets can start to look and feel pretty dirty over time. While you could try to clean them yourself, you can also search on Google for Carpet Cleaning Ayrshire and get them professionally cleaned by a reputable company such as ours.
Here's what you need to know.
If you have carpets in your home you know that it requires a fair amount of upkeep to keep it looking nice. Vacuuming every week is a good start, but if you really want to deep clean your carpets and get rid of all the dirt and dust that's been building up over time, you need to call in the professionals. 
Professional carpet cleaners such as Pristine Clean Ayrshire have the knowledge, expertise and the correct machinery that uses hot water extraction methods to clean deep into the fibres of your carpets. This process will leave them looking and smelling fresh and new again. 
Call or Message us today.
Book Us
You can book via Phone, Email, Website or Social Media via our Facebook / Instagram.
Cleaning Day
We will touch base prior to your Appointment. On the day we will arrive at the agreed time and get to work.
Leave Us A Review
If everything went as you'd hope, we'd like to think you would leave a review.
Why is it important to get your Carpets Professionally Cleaned in Ayrshire?
What's better than a home with fresh carpets? A clean and restored carpet! 
Professional carpet cleaning is a great way to keep you and your family healthy by removing dust mites, bacteria and other allergens from the air. As strange as this may sound, dirty carpets can obstruct airflow in homes which ultimately affects your health!
Using our Professional Carpet Cleaning services you can have the best of both worlds making sure that your Carpets not only look clean and fresh but the environment you live in too. 
When it's time to clean your carpets, call the pros at Pristine Clean Ayrshire.
We also offer ongoing protection for your Carpets by applying a product commonly known as Scotchguard. 
Make sure you call or message us today.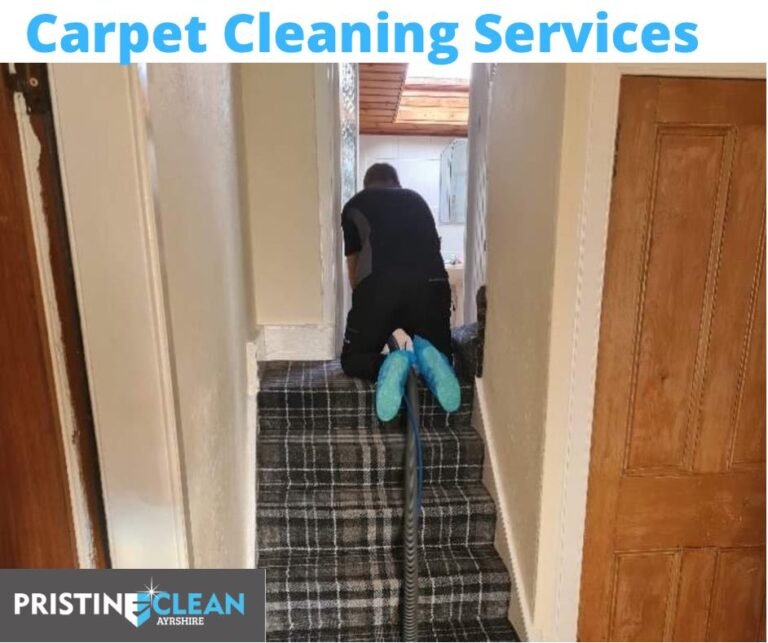 What our customers are saying 
Natalie Kilpatrick
Abosulety amazing job done by Kris & Jamie got my carpet cleaned in livingroom and hall and came up like new 🤩 Would defo reccommend to family and friends top class service
thunderchild13
A Good service that I would recommend and use again.They spent 2 hours cleaning the couch and carpet, they got all the stains out. Really happy with the results.
Creo Design
Had the guys in for some cleaning in the studio. Great service, very efficient and really nice guys. Thanks again and no doubt we'll see you again in the near future.
Henrietta Paul
These guys, Jamie and Dean, played a blinder at mine today. They cleaned my sofa and 2 love seats, plus the lounge carpet. They have all been totally rejuvenated. The attention to detail, and professional expertise, really shows...
Anne Barker
Totally recommend this company. the communication with Jamie was great. The carpet cleaning itself - Jamie and Dean did a fantastic job, getting rid of stains I couldn't budge, and leaving almost dry carpets that smelt great.
How long does it take for a Carpet Cleaning Service to dry after professional cleaning?
If you're looking for the Best Carpet Cleaner look no further than Pristine Cleaning Ayrshire. For over 6 years we have provided reliable and high-quality service that is tailored to meet your individual needs–whether it's deep cleaning or just maintenance cleans! 
With our state of art equipment and our high 5-star standards you will be confident that you have chosen a reputable company.
Dry Soil Removal –  We know that you want your carpets to look as good on the outside of them as they do inside. That's why we always make sure there is no soil or debris left behind after using our commercial grade vacuum!
Agitation – After the Cleaning Solution is added to your carpets our electrical agitation machine will be used to get deep into all of your carpet fibres.
Soil Suspension – Soil suspension occurs when the soil is separated from carpet fibres. We apply biodegradable solutions that break down and emulsify other soluble soils, which can lead to more natural looking grow setups without using any harmful chemicals or toxins!
Hot Water Extraction – Your carpets may be dirty, but they're not too far gone yet! We use state-of the art hot water extraction machinery to remove any remaining soils from your carpet. This provides consistent results across all types of carpets.
Drying – We use a special technique to speed up the drying process and make sure that your carpets are safe for wear. Using 'Speed Driers' will give you carpet cleanings in most cases around two- three hours or less!